Our world is obsessed with numbers and time – not just with how we schedule our lives, but also with how we celebrate and commemorate everything we do… birthdays, anniversaries…even days until our next vacation.
We use numbers to connect and do exciting things with others, and we look beyond the numbers to see that they represent what's important to us. Celebrating anniversaries isn't about the years – it's about everlasting love. Giving someone a birthday card isn't just saying that we recognize they are older – we're saying how glad we are that they're in our lives. When you know what the numbers represent, they become a really big deal.
Let me introduce you to the Number of Years stamp set from the 2016 cccasions catalogue.  It's perfect for keeping memories and sharing celebrations of the moments that mean the most. (They have coordinating Large Numbers Framelits Dies as well, which means you don't have to cut them out by hand.)
What are the milestones you are looking forward in the next few months? Use this stamp bundle to express appreciation and love for people in your life throughout the year.
As I mentioned a few days ago, I demonstrated this bundle at our team training event on the weekend so I have a couple of quick samples to show you.
For this first one, I embossed the 25 with black embossing powder and evenly punched holes in it. I was going for the marquee look (signs with the lights in them)…so I filled the holes with crystal effects. It took about 3 applications – drying in between – to achieve the height I wanted on the "lights".  I love how it turned out. The background paper is from the Going Places Designer Series Paper Stack.

This second sample  was cased from Cindy Schuster showing how cutting the numbers out of your card can create fun and playful backgrounds for kids cards. Back the card front with colorful Designer Series Paper and highlight your focal number with a solid piece of cardstock.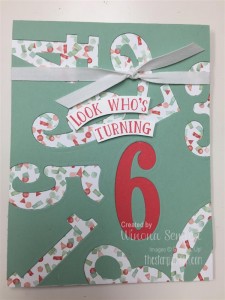 The third one I want to show you was a card idea I received in our team swap this month. Brenda embossed the front mat with our new Confetti embossing folder and then used the empty space in the middle to create a focal point for the number 29. Of course, cutting anything out of glimmer paper is always a WOW, don't you think?! Do you know anyone who is turning 29 again? or 39 again? LOL!

My dad is celebrating a major milestone this month as well, so I'd better get busy on that one.
When you are ready to place your order, please click
HERE
to go to my online store.
Have a great day everyone…