It's December 12th and it's beginning to look a lot like Christmas around here. Christmas cards are made, we've had our annual team Christmas party (aka our chocolate fondue night!),  and some presents are wrapped and under the tree. I even decorated a little bulletin board in my office.

Here are the little gifts I gave out at our team party. I packaged up mini fresh balsam candles.

I used the 3″ x 6″ Gusseted Cellophane Bags, and just cut a piece of DSP to fit the inside.

I scored it at 2″ so it would lay flat in the bottom.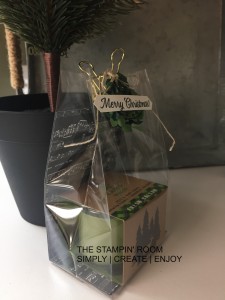 The boxwood wreaths are a perfect final touch to each of your pretty packaging! They are also very perfect for home decor pieces like this one.

Here's another beautiful home decor piece (created by Sherry Roth) for our Christmas gift exchange. Do you have any left over pieces of Christmas DSP? This might be a great way to use some smaller pieces.
I hope you are enjoying crafting this holiday season.
When you are ready to replenish some supplies, be sure to shop through my online store HERE and use Hostess Code WP3KHD27 to receive a free thank you gift from me. (NOTE: if you click NO CONTACT, I will not be able to see who placed the order…and then sadly you will not receive the free gift.)
Thanks for stopping by. Have a wonderful day!