Are you thinking about joining Stampin' Up! but really don't know where to start? Well you've come to the right place – I'm happy to guide you through your decision.
Selecting the right group to join with the right leader is a very important decision. The support of your upline (that would be me!) can be an important factor in the success of your business. You want to be sure your upline is going to be able to meet your needs. Here is a little bit of information about my group, BIGideas.ink, and what I do for my team.
As a multiple incentive trip earner and top 20 demonstrator in Stampin' Up! Canada, I know what it takes to set and achieve goals. Whether you want to enjoy Stampin' Up! as a hobby, pay off a bill or two as a business demonstrator or be a full-time career demonstrator like me, I am confident that I can help you set and reach your goals.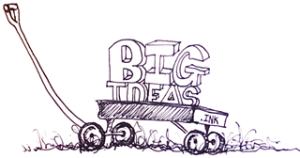 When you sign up, you will receive our monthly BIGideas.ink newsletter. That is where you will find business ideas and tips that will make your business successful, team sharing, creative projects, updates, awards & recognition and team incentives.
We also have a private group page on facebook where we can chat and get to know each other better.
BIGideas.ink is a Canada-wide group of demonstrators. If you are local to the Edmonton, Alberta area, you are invited to attend our in-person meetings.
Ready to get signed up?
The time to join Stampin' Up! and my BIGideas.ink team is now!
The $125 Starter Kit includes two parts:
1. Business Supply Pack – choose from three different supply kits, depending on your focus (valued at $70).
2. Merchandise Choices – choose between $125 and $155 of Stampin' Up! merchandise.
Still need a little more information? How about this…
Purchase your entire wish list with a 20% demonstrator discount!!

That's what demonstrators get plus exclusive access to preorder periods with each new catalogue.

Give it a try on us!

Enjoy Stampin' Up! demonstrator discounts and benefits through a full calendar quarter (depending on when you join, this could be up to 5 1/2 months) with NO further need to sell or purchase any products beyond your starter kit. See, no pressure – just fun!!

There is no penalty to drop!

If you wish to extend your demonstrator status for the following quarter, you would be required to have $400 in product sales (including your own orders). 

Starter Kit ships FREE!

Yes, that is free shipping – yet another savings!! 
There is no obligation to hold workshops or parties, sell products to others or personally purchase anything beyond the list. Being a demonstrator can be whatever you want it to be! Contact me today if you have any questions!
Come on, let's get the fun started. Join BIGideas.ink HERE!!