This shelf makes me so happy…it showcases the Painted Harvest Bundle which my clubs worked with this month.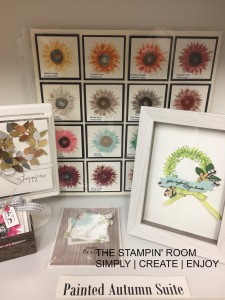 You really cannot comprehend how beautiful these stamps are until you start stamping with them. The textures on the overlapping images are stunning. Try them in multiple color combinations…which ones do you like the best?
This framed image is cased right from the Holiday Catalogue.

A little tip when you stamp the leaves in a circular pattern…punch out a circle first and lightly trace it onto your piece of Whisper White Cardstock. Stamp the leaves on top of that pencil line. This makes it much easier to get it looking like a wreath.
I stamped the first layer in Lemon Lime Twist and then the second layer in Garden Green. It is embellished with the Touches of Nature Elements and the 1/4″ Lemon Lime Twist Ombre Ribbon.  The Painted Harvest Bundle includes the Leaf Punch which makes it super quick to create layers of leaves on your project. What a beautiful accent to any display this October.
Check out this card from the oh so talented Kathy Lovell using the spotlighting technique:

The pop of color on the black and gray images is quite effective. This set is so versatile.
 Fall Stamp Cafe
There is still room in our all day event on Saturday, September 30th. We would love to have you join us. See the details here Stampin' Cafe Fall 2017. Please RSVP right away!
If you are unable to make it, and would still like to place an order, you can order online HERE. Please use the September Hostess Code 7R9HYUAG  at checkout.
Thanks for stopping by,